A Typical Day For A Volunteer
---
Spend your days teaching, exploring, and sipping on $0.75 smoothies.
The overall experience of being an ILP volunteer is similar in every country, but each location has its own unique aspects and adventures. For example, your meals in Europe will obviously be different than your meals in Thailand! Things like housing, meals, teaching times, group sizes, etc are all different depending on where you volunteer (and they can change a bit from semester to semester). Your experience may not be the same as another volunteer's ... even when you're in the same group.
We'll set you up with the tools to have a successful semester, but you are responsible to make the most of it! Here's an example of what a typical day could look like though to get an idea ...
A glimpse at a day in the life of a Thailand volunteer:
Morning
Wake up early and jump on Facetime with your family to say, "Hi!" Thailand is 13 hours ahead of Utah (MST) so you'll catch them while they're making dinner. Then, grab your running shoes and one of your fellow volunteers for a quick workout. Even though Thailand is crazy humid, jogging is surprisingly popular here! You'll get used to the humidity and it actually feels so good to get a good sweat, especially in the morning when it's the coolest.
Afterwards, take a quick shower and throw on your t-shirt dress and flip flops and join your group for some breakfast prepared by the staff at the school where you live and volunteer. Today they made your favorite - scones with plenty of sweetened condensed milk to dip it in (seriously mmmm), toast, and plenty of fresh mango. They're definitely not afraid of carbs here!
Class starts right after breakfast, so you grab your backpack full of fun supplies for that and walk over. You conveniently live in a building right by the school with your other ILP group members so it takes just a minute to get there. You add your flip flops to the pile of shoes at the door of the school - your favorite thing about Thailand just might be teaching barefoot (a big part of Thai culture means taking your shoes off when you're indoors).
You're teaching "Shop" this week so you grab some things out of the Supply Room to make a telephone with your kids for today's activity. They loved it. Success.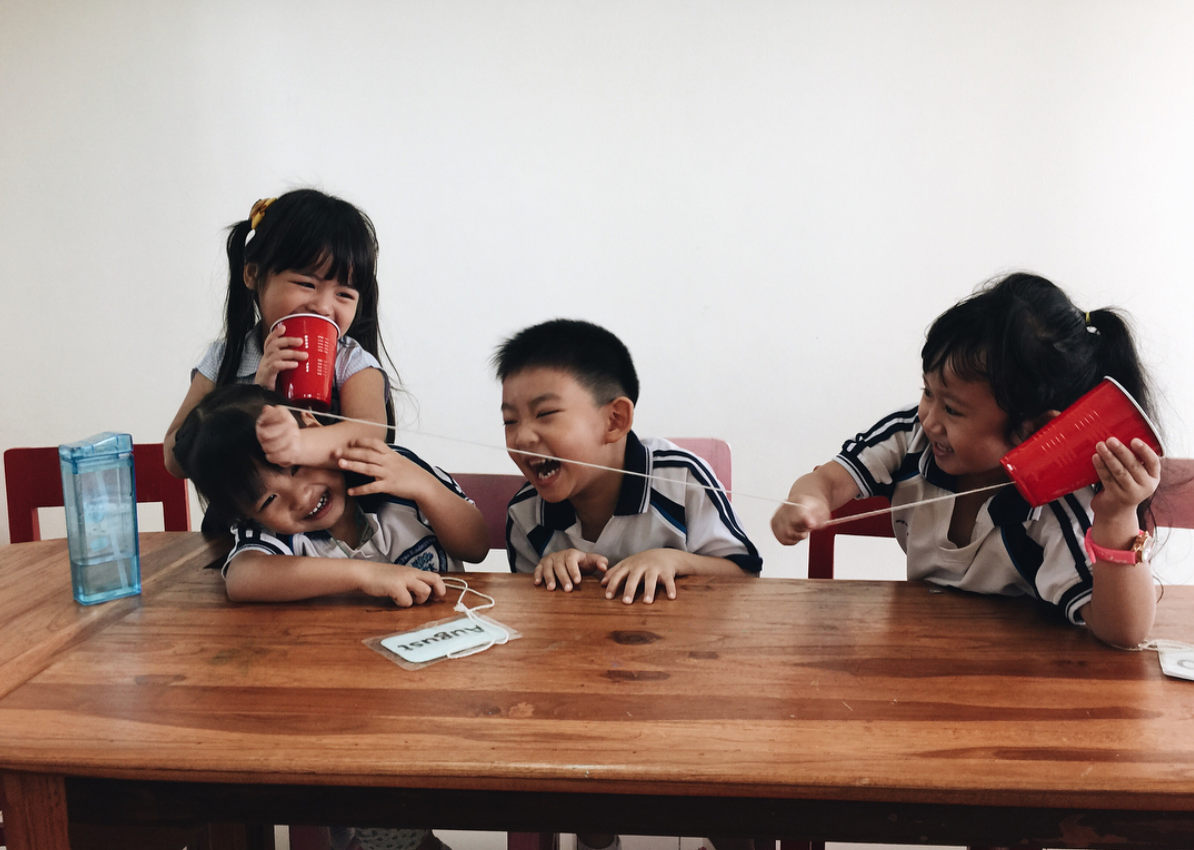 ILP classes are activity-based so students are having fun and are engaging with you all while they learn English naturally (so it's totally fine if you've never taught English before). Your class is also small so that you know each of "your kids" by name, know their personality, and see how they learn best.
Check out this spotlight on one of our favorite students in Thailand if you're not convinced yet of their cuteness.
Mid-day
After a couple hours of teaching, it's time for some lunch! Today the lunch is pretty typical: rice, veggies and some chicken.
There's a couple hour break before you head back to teach a few more classes in the afternoon. Most of the other volunteers like to Netflix or take a nap, but you decided to take this break to knock out a couple online classes so you jump on your laptop to work on your paper that's due next week.
Evening
After classes are done, you and your fellow ILP teachers have some dinner (curry with chicken and veggies over rice, prepared by the school's staff) and are now ready for a treat. You jump on your bicycles that the school has available for you to use, but first you check the air in the tires to see if it needs a pump — bikes here are ... well, they've been well loved! Your little bike gang then waves goodbye to the kids as you head down the road to your favorite smoothie shop. You usually get the coconut strawberry flavor, but today they made some mangosteen ones which you can't pass up on! It'll cost you a cool $0.75 for a fresh drink.
You decide to ride around the neighborhood a bit, picking random streets to explore and kill some time before you can watch the sun set.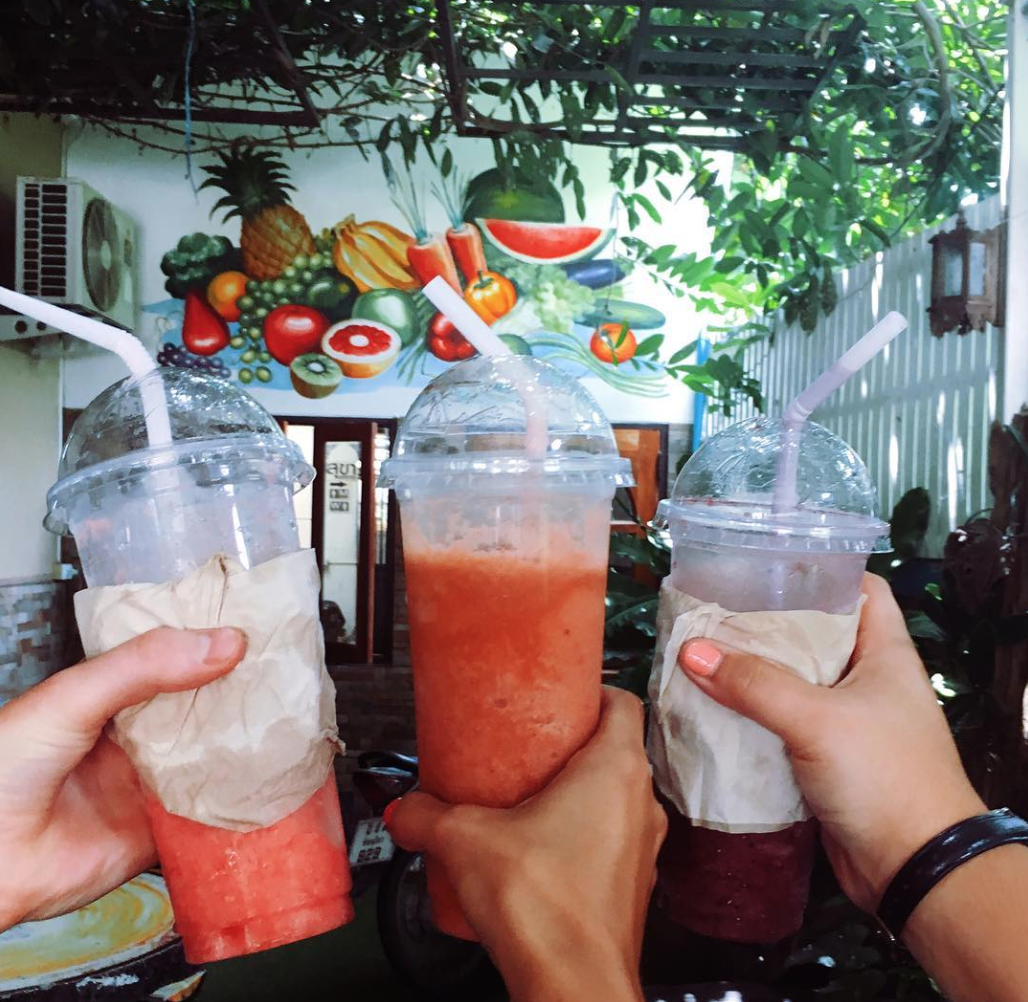 Make the expe

rience your own

Like we mentioned, the experience is different for everyone. We give you the tools to live abroad, the free time, and the meaningful purpose of service but then ultimately you're responsible for what you get out of the semester.

Be adventurous! Some volunteers choose to attend an LDS church on Sundays. Some try to connect more with the locals by learning how to speak basic Thai. Or maybe you create the ultimate bucket list for your semester so that you make the most of every day!
"I can't express how much I have grown to love these children. They all have such bright futures ahead of them! I absolutely hate saying goodbye, but being their Teacha Nicole this semester has blessed me in so many ways!" @nicolelwh
Go check out different parts of Thailand + neighboring countries
ILP volunteers have scheduled vacation time throughout their semester as well as every weekend off. This gives you plenty of time to go travel to all those temples and beaches you're dying to see. You'll have your travel plans approved by an ILP director to help ensure you're traveling to safe areas, but otherwise it's really up to you and your group where you'd like to go.
Start dreaming up your ideal bucket list for your semester in Thailand!
Our favorite vacation ideas:
We've got an entire Thailand Destination Guide full of our favorite spots - so make sure to check that out for more detailed tips on these Thai cities if you're planning a trip right now, but here's a glimpse at some of our favorite places volunteers go.
Thai Islands (hop from island to island, checking out different beaches)

Koh Lanta
Krabi
Koh Samet
Koh Phi Phi
plus so many more!

Chiang Mai (jungles, elephants, and shopping)

Pai
Chiang Rai
Sticky Waterfalls

Bangkok (Grand Palace temples, rooftop skylines, and bargain markets)


+ Ayutthaya ruins

Erawan National Park

Indonesia (fly to Bali to take a yoga class in Ubud or go snorkeling in Nusa Penida)
Cambodia (wander World Wonder Angkor Wat)
Singapore (stroll around this colorfully urban part of the world)
Vietnam (cruise around Ha Long Bay and visit ancient villages in the north)
Myanmar (watch hot air balloons rise over Bagan at sunrise and explore ruins)
Places you might want to check out on a weekend trip:
Sukhothai (ride your bicycle around really cool ruins)
Wat Pha Sorn Kaew (our favorite mosaic tiled temple)
Phu Hin Rong Kla National Park (awesome hiking)
Udan Thani (go boating in a lotus flower filled lake)
A few travel tips
As you can see, there's more than enough to do in (no matter how long your trip is) and you'll stay busy trying to snag every experience you can. That's why I'm SO glad I spent the entire summer in Thailand when I was volunteering - if you only go for a week like most tourists do you're barely scratching the surface.
If you're overwhelmed with all the options and don't know where to start, check out our 10 must see places in Thailand.
Luckily travel is super cheap in Thailand which makes it easy to get around the country (like $25-$40 flights!). It starts getting a little more expensive when you're making an international trip and jumping over to neighboring countries. We did find an airline pass that gets you crazy good deals on flights to places like Bali and Singapore to help make those vacations more affordable.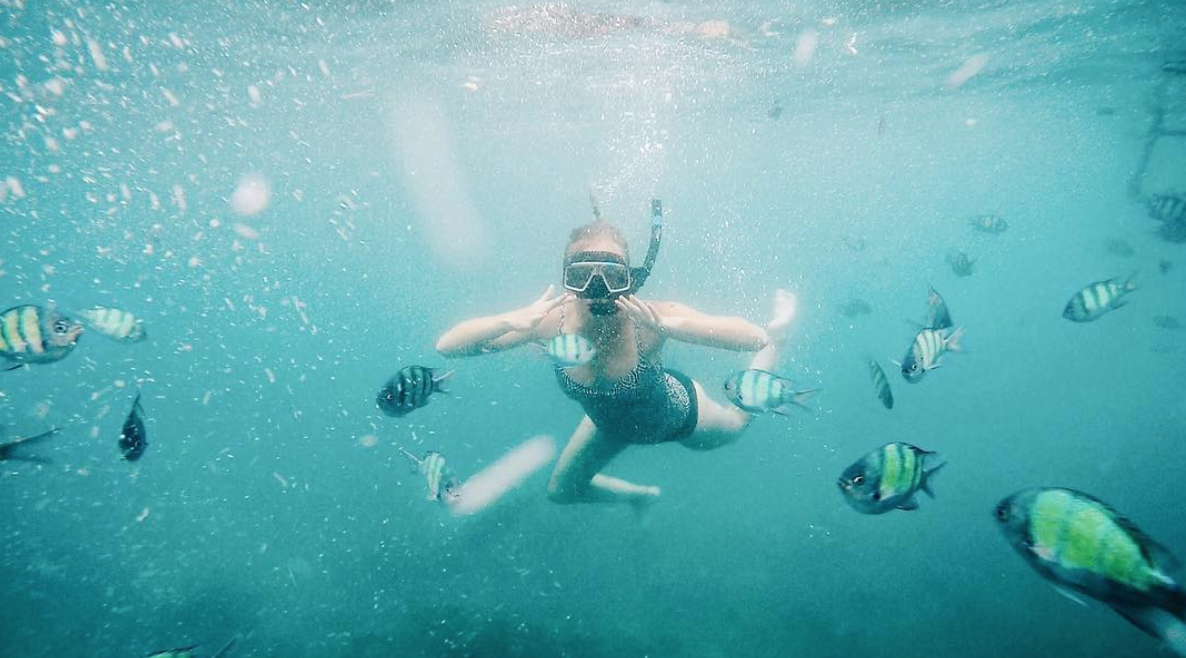 Experiences You Can't Miss
---
Living in Thailand for a few months gives you the time you need to really experience all the things you're looking for. Some of the things are more touristy than others ... but it's fun so just go for it!
Here's a list of some big things that you just can't miss out on:
Thailand Bucket List
Make a wish at the

Lantern Festival
Try mango sticky rice, rotee, and of course pad thai
Go island hopping on a long tail boat
Snorkel, kayak, and swim around the turquoise clear island shorelines
Be blessed by a monk at a temple
Sip on a fresh mango smoothie while you lay in a hammock at the beach
Haggle for a lower price on your souvenir at the market
Ride your bicycle around ruins
Cheer with the crowd at a Thai boxing match
Catch a ride in a tuk-tuk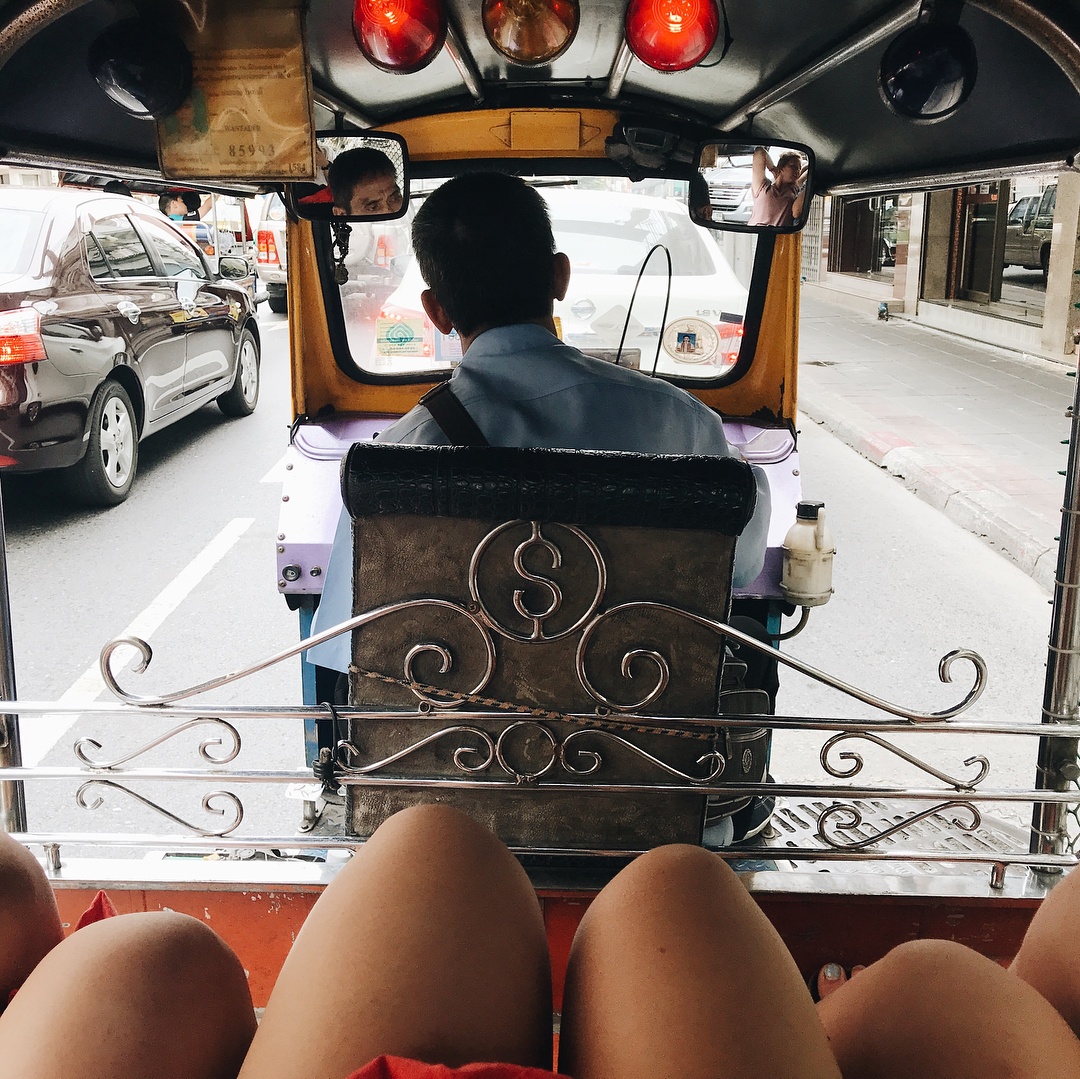 Quick facts about an ILP semester in Thailand:
Qualifications - who can volunteer?
ILP volunteers are young adults/college-aged - typically age 18-24 (yes, you must be at least 18), from the US and Canada, and speak English as their first language. There is no experience necessary! It's totally fine (and normal) if you only speak English and/or have never taught before.
Currently we are accepting single females for this area. If you are married or a single male we do have other locations that are a better fit for you. The groups are around 5-10 volunteers each semester, so spots are limited.
Cities
We currently have three groups in Thailand. Volunteers live in the city of Phitsanulok and in the nearby town of Phichit; both are in central Thailand.
Psst! You might even come across some of their superstitions when you live there.
Semester Dates
There are 3 semesters that you can participate in: Spring, Summer, and Fall
The exact dates vary from year to year, but in general ...
Spring is early January-end of April
Summer is end of April-middle of August
Fall is end of August-middle of December
Costs
The program fee to participate as a volunteer in the Exchange program in Thailand is $2,520. This includes your roundtrip international airfare to Thailand, housing, meals, visa, and training and support for the entire semester.
We also recommend budgeting around $1,500-$2,000 for any traveling and purchases you make while you live abroad as well as things you may need that the program fee doesn't cover (like a passport, health insurance, airline baggage fees, etc).
Psst! Is budget one your concerns? We have a guide with ways to make a semester abroad affordable - check it out! It's especially helpful for college students.
Housing
Volunteers live in housing on (or very close by to) school grounds with other group members. It's usually several bunk beds in a large room, so it's like a slumber party every night with your new friends!
Weather
Hot hot hot. Thailand is warm and humid year round, although it's slightly cooler in the winter months. Spring is the hottest, and summer tends to be the rainiest. It's going to be similar no matter when you go, but here's the best times of year to visit Thailand.
How to apply
You can start your application online right here. It's easy to get started and there's no commitment at this point! We start accepting applications about 1.5 years prior to the start of the semester and there are no deadlines (we fill spots on a first-come-first-serve basis).
We recommend applying as soon as you know you're interested in volunteering because the spots in Thailand are limited and do start to fill up - we actually wrote up some tips to help your chances of getting into Thailand here.
As soon as you apply you'll be assigned an ILP representative who can answer all of your questions, give you tips, and just be your go-to person when you need help.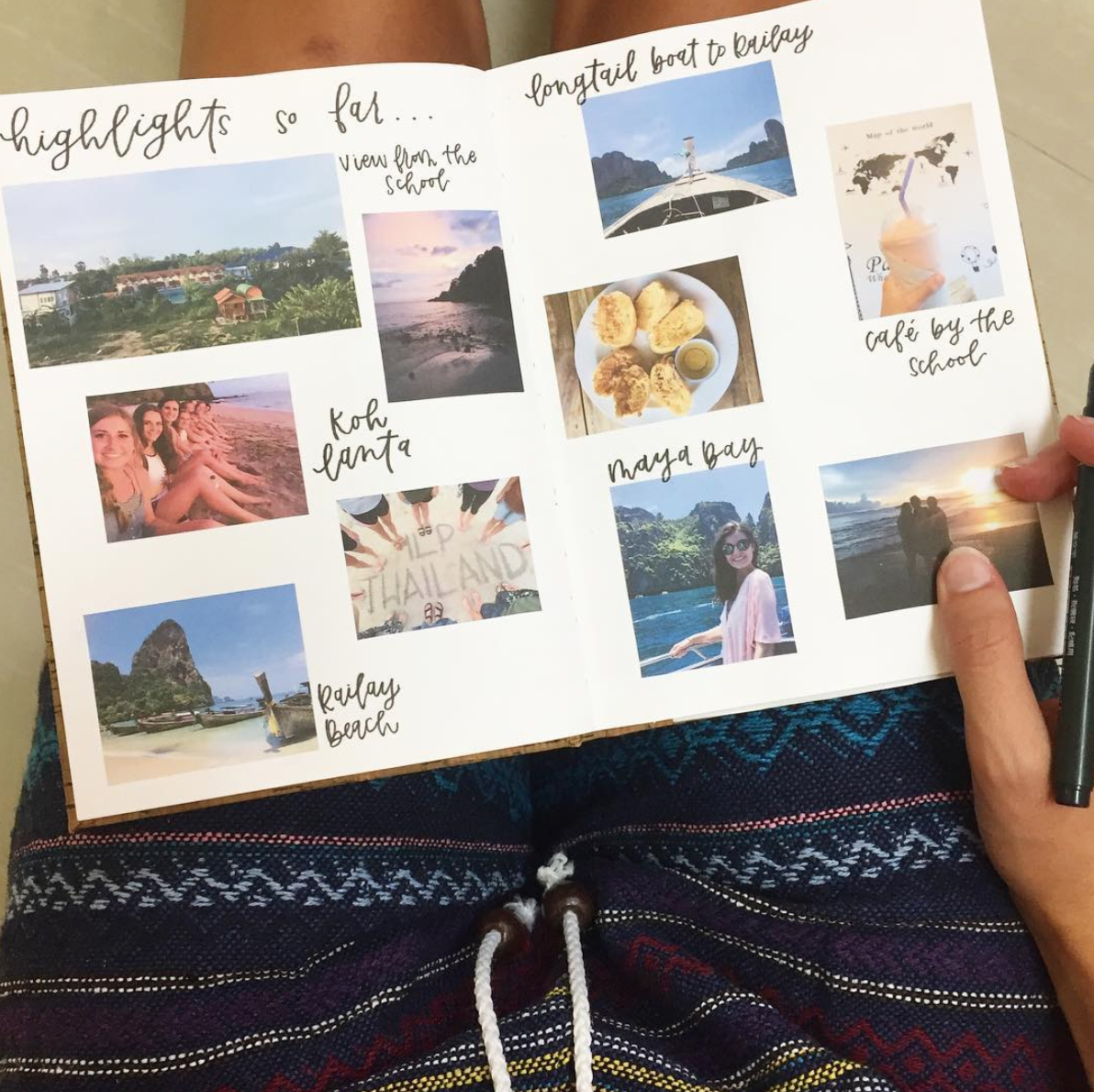 Advice From Past Volunteers
---
It's really helpful to use past volunteers as a resource!
So how can you get in touch?
Check out the ILP blog
Sometimes we interview volunteers about how their semester went! I wrote about what I wish I knew before I went to Thailand here.
You can also check out what other volunteers said about living in Thailand here and here.
Follow us on Instagram
@ilpadventure is frequently posting about all of our locations, giving updates, and more so make sure to follow us there.
Follow #ilpthailand to discover volunteer's personal accounts and follow them.
We even have an Instagram account called @ilptakeovers where we ask volunteers who are in-country right now to take over and post some stories about what they're doing and put a post on the feed. Volunteers are usually featuring what a typical day looks like, what the meals are like, info about vacations they are taking, things to pack (and not to pack), what their apartment looks like — you know, all the things you want to know from their perspective.
You can see what they're doing from day to day and also DM them with questions! Most volunteers are so happy to help you out because they also had tons of questions before they signed up.
Talk to an ILP Representative
The representatives who work in the ILP office have volunteered on our program before and love to talk about their experience and answer your questions. Check out the form below where you can leave your contact information and we'll have a rep reach out and text you.