Head here for jungle adventures, elephants, shopping markets, and temples
If you travel to Thailand without making a trip up north, you're missing out big time (it's worth coming back to Thailand to visit if you can't fit it into a short little trip!). Northern Thailand is a little out of the way considering most tourists head to the opposite side of the country (down south) to experience the stunning beaches found in the islands, but trust me - it's worth the trip.
CHIANG MAI
Chiang Mai is a must see spot and should be your first stop up here. I might even say it's my favorite place in Thailand! Well ... one of them (don't make me choose). It's a walkable city with a small town feel surrounded by lush jungle mountains and full of backpackers looking for adventure. It's also a perfect jumping off point to other cities in the north (and the rest of Thailand) as it's a major hub complete with an airport, train station, bus station ... you name it.
What's there to do in Chiang Mai?
Zip lining through the jungle

Check out a t

emple in the mountains (

Wat Phra That Doi Suthep)

Hiking to mountain top villages
There's really so much to do in Chiang Mai that you could easily stay busy for a full week. If you're short on time, I'd recommend spending at least 2-3 days here to pack in the top bucket list activities. Many hostels and hotels will set you up with tour suggestions and recommendations, however I always research ahead of time to see reviews and double check prices. You can book ahead online or you can just talk to your hostel when you arrive to get set up for tours the following day.
One of the biggest reasons people come to Chiang Mai is because it's THE spot for seeing and hanging out with elephants. You'll find tour companies all over Thailand that let you interact with elephants (we'll talk about that more in the last section), but this part of the country is their natural habitat and where it's most famous. Some of the companies famously mistreat the animals and so it's worth your time to do a lot of research and find the companies who work hard to create sanctuaries instead. Here's our guide to finding ethical organizations and suggestions of ones our ILP volunteers have had good experiences with.
If you're short on time and packing in as much as possible (like pretty much every traveler ever), the easiest way to get here is by flying from Bangkok's airport Don Mueang (not to be confused with the larger international airport). There's multiple flights a day, usually $25-50 for budget airlines like AirAsia, and it takes less than an hour. Easy peasy!
Get our insider's guide to Chiang Mai here
It has more info on our favorite things to do, recommendations for places to stay, restaurants to try, and more.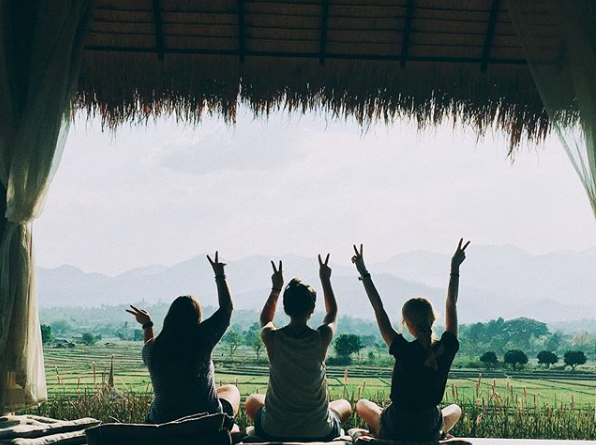 Home to my favorite temple (which is a total secret, by the way)
... and also some really cool ruins. Most tourists skip over central Thailand completely, which is probably why it still feels like such a hidden, untapped gem. If you're only in Thailand for a week or two, you probably won't have time to come see the most colorfully magical temple I've ever been to - that's why I'm so glad I signed up to volunteer for the entire summer in Thailand. A whole summer here made traveling all over the country a cinch. Making your trip longer than a week (or even a month) means you get to go off the beaten path to spots only locals know about.
What's there to see in central Thailand?
The easiest way to get to this part of the country is to fly into the Phitsanulok airport (or if you're adventurous you could take a bus from Bangkok and make a stop here before you continue further north to Chiang Mai). Phitsanulok is home to where volunteers who are part of our semester abroad program live, but if you're just visiting, there are taxis who can help get you where you need to go within and around the city. You'll find that there's less English spoken here than in famous tourist areas like Bangkok or Chiang Mai, but that's all part of the adventure, right?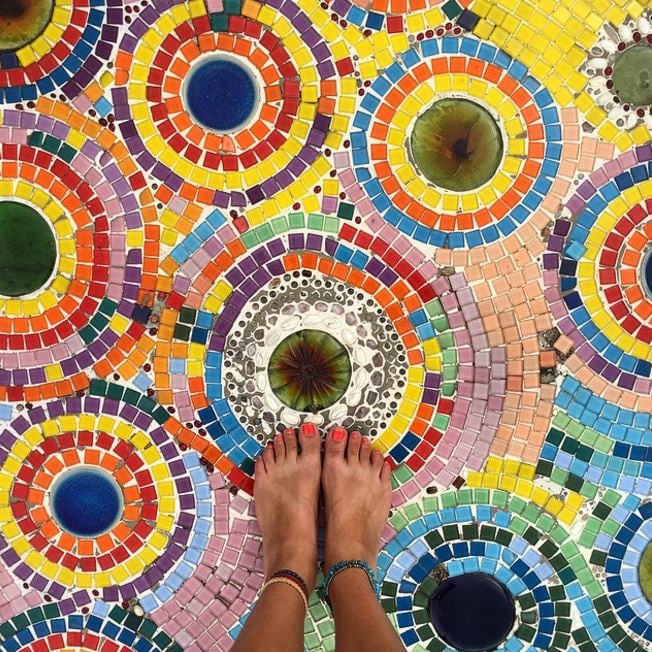 The city life
Most tourists make their biggest mistakes in Bangkok: they either stay here for their entire trip or they skip over it completely. Ideally I'd recommend you plan a couple days here at the start of your trip before jetting off to your real destinations in Thailand. It's nice to have a minute to settle in after your long international flight to Thailand before you travel elsewhere as well as see the popular sites the city has to offer, but on the other hand, you should not spend your entire trip to Thailand in Bangkok. Venture to other (arguably much better) places — trust me!
Check out our total guide to planning your trip in Bangkok
Bangkok can feel overwhelming to many tourists, for good reason. The minute you step foot outside of the airport you'll be overcome with the thick Thai humidity before you experience a sense of overwhelm from the large, loud, crowded city (in 2016 Bangkok was actually the most traveled to city in the entire world with millions coming each year). Plus, there are locals who have perfected the art of the tourist scam (as is common in most major cities). Bangkok has some amazing sites, but in this city, it's just hard to find that peaceful - sun on your face - sand in your toes - mango smoothie in your hand - sort of feeling that you're probably wanting from your Thailand trip.
Must sees in and around Bangkok:
We're also really excited awaiting the new LDS Bangkok temple!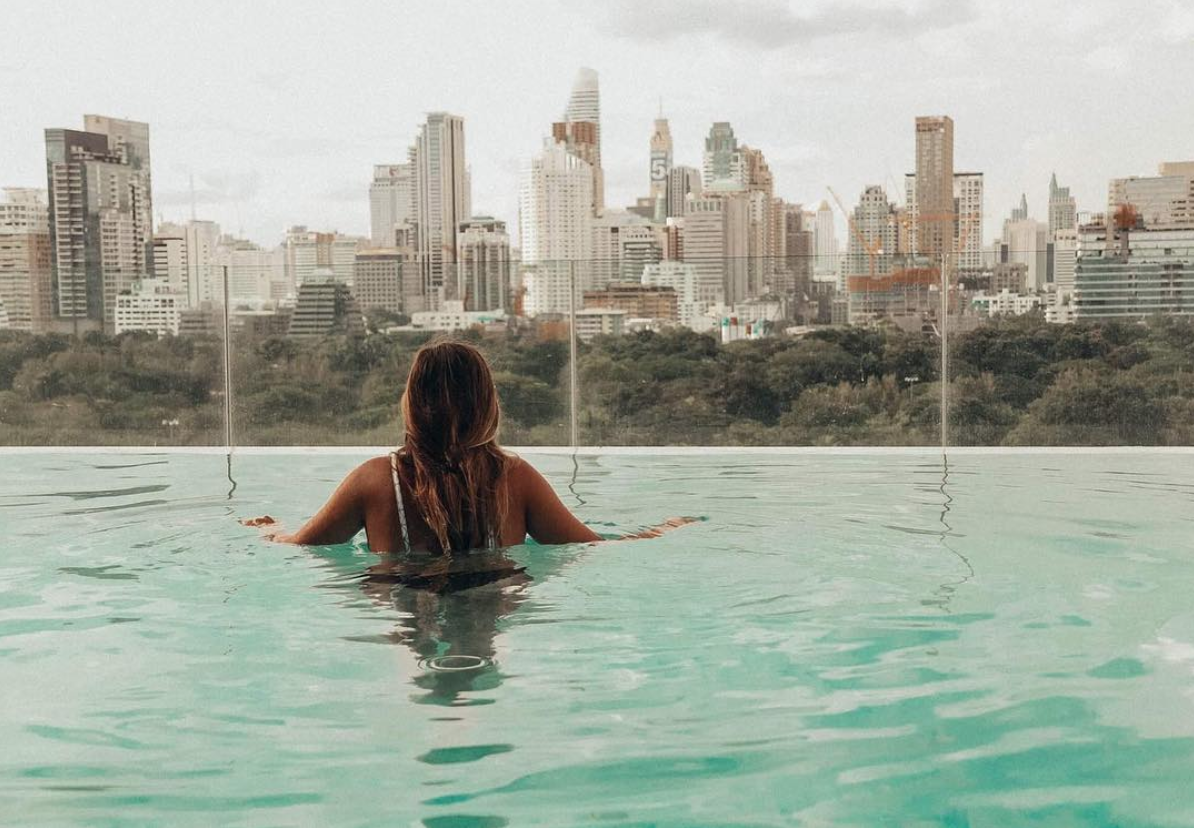 Sunsets, snorkeling, fresh fruit smoothies, and hammocks beneath the palm trees...
Sounds like heaven? It pretty much is. If you've browsed Pinterest at all, seeing photos of the Thai islands is probably why you're even planning a trip here. They are SO incredible and if you can believe it, the photos don't do it justice at all.
Something to know about Thailand is that there a numerous islands that you can choose from. If you do southern Thailand right, you'll visit several in one trip, island hopping by hiring a private boat or jumping on a ferry.
Which islands are worth seeing?
Koh Samet
Koh Samui
Koh Phangan
Koh Nang Yuan
Koh Tao
The hardest part is going to be choosing which ones to visit, but here are our top Thailand beaches. Don't stress too much though - you really can't go wrong. They're all amazing! Oh and psst ... "koh" means island in Thai (just in case you were wondering).
We've got a whole guide to getting started on planning your trip to the Thai Islands.
Most people access the islands by starting at either Phuket or Krabi. Both of these coastal cities have airports which make them quick and easily accessible from Bangkok. They're about the same as far as flight costs and travel time go, but Phuket is more well known than Krabi (making it typically more crowded), but either is a good option. That being said, we're sort of partial to Krabi because it has this amazing hike to a big Buddha and who doesn't love a Harry Potter themed hostel? If you make it to Krabi, definitely go say hi to our friends at this cutie restaurant.
How long you stay in the islands is really a personal choice! You really can't plan enough time here honestly. If you want to relax you might just want to pick one island and stay there for a week (you can always book a quick day trip to another island if you feel the urge). Or you could do some island hopping, staying just a couple of nights on each one. If you have less than 5 days, just know that you'll likely walk away feeling like you need to plan another trip to come see more.
If you have extra time, head a bit further north to stay at the floating bungalows in Khao Sok National Park!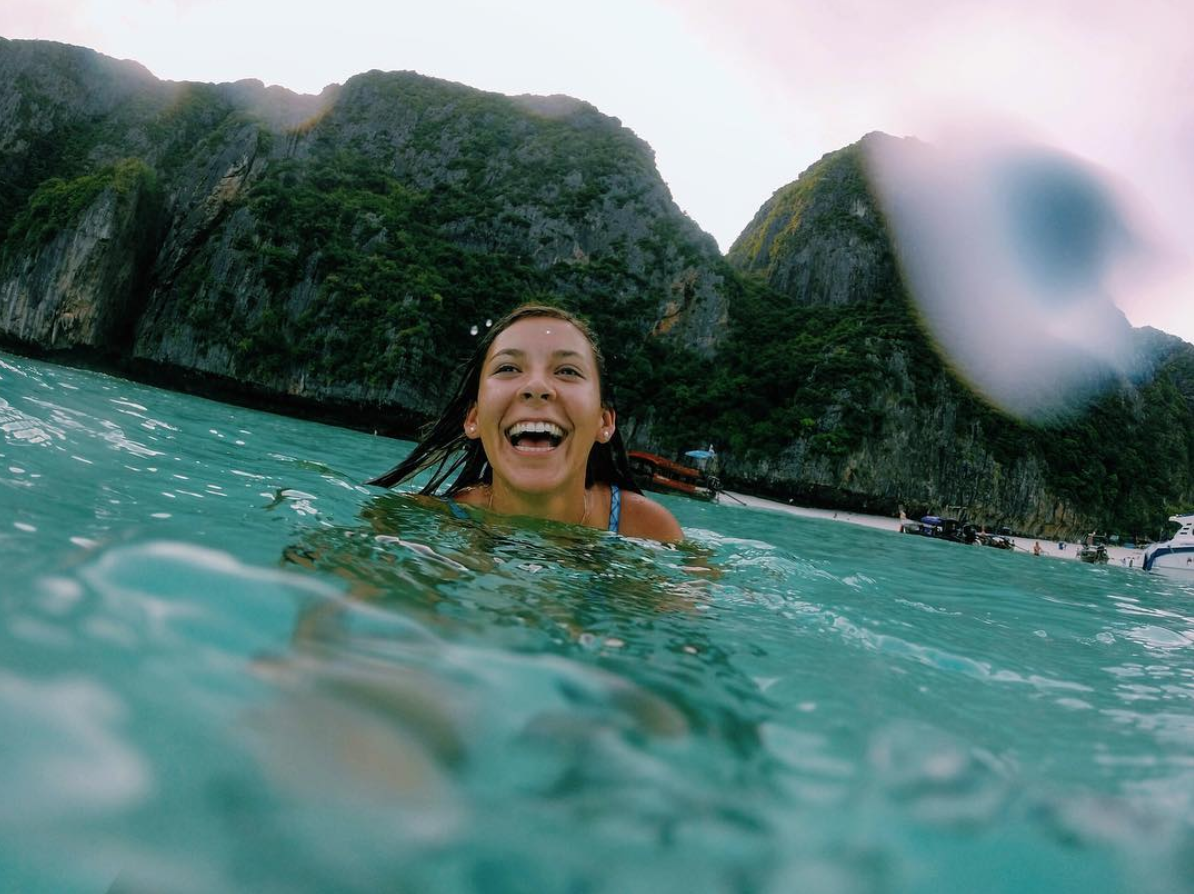 Experiences you just can't miss
Whether you're in Thailand for a week on a quick vacation or for a year teaching English, these are the things that will help give you the Thai experience you're looking for.
Thailand Bucket List:
Make a wish at the Lantern Festival
Try mango sticky rice, rotee, and of course pad thai during a cooking class
Go island hopping on a long tail boat
Snorkel, kayak, and swim around the turquoise clear island shorelines
Be blessed by a monk at a temple
Ride in a tuk-tuk
Sip on a fresh mango smoothie while you lay in a hammock at the beach