Come for coastal cities, turquoise pools and lagoons + our favorite beaches
If you are only seeing one spot in the Dominican Republic and you want to get a taste of the beach, we suggest you spend time in the north. Not that there aren't other pristine beaches elsewhere in this Caribbean country (we get to others later) but you'll find a wide variety of things to do within the city, day trips to places we love, plus some of the best beaches around. Puerto Plata is a city that works well for visitors who don't have a lot of time, but want to do a lot (and see some sun).
PUERTO PLATA
This city is where you should start your Dominican experience; it's a coastal city which supports some colonial architecture and enough to keep you busy for a couple of days, especially if you're looking to take some day trips outside of the city for a day, or want to spend a full day diving into blue waters of the Dudu Lagoon, or canyoneering 27 Waterfalls.
Something to keep in mind: The Dominican Republic has miles and miles of beaches you can choose from and you can't go wrong with any of them, but when it comes to beaches right by Puerto Plata, we suggest going to Sosua or Paradise Island instead. The ones near Puerto Plata are pretty, but it's worth the extra effort to travel a bit more to really see pristine Caribbean waters.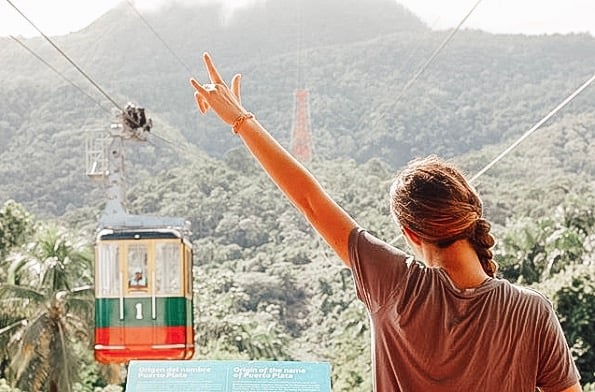 Things To Do In + Near Puerto Plata
I would recommend spending close to a week in Puerto Plata and nearby; you can easily fill a day visiting the 27 waterfalls and another full day at the Dudu Lagoon, plus include some time to explore the city of Puerto Plata, all before heading to Paradise Island or Sosua for some beach time.
If you are short on time, I would recommend spending at least 2-3 days in Puerto Plata (don't miss the Dudu Lagoon and get in some beach time at Sosua) then going to Paradise Island if you want beach time in the north.
Getting around Puerto Plata and to other places is easy; the main airport (POP) is just around 20 minutes from the downtown area making flying here a cinch. As for getting around the area, you'll find that you have lots of options. Taxis are traditionally the most reliable but can be expensive and prone to scams. You can also try out gua-guas which are buses that you can just hop on (they don't have set schedules or stops) which are a more traditional way of traveling and lots cheaper.
For travel to your beach days or other spots in the Dominican, you can get tickets for long-distance buses that head regularly to other main cities from Puerto Plata. We like booking with Caribe Tours. The city is the largest hub in the northern region, making getting around the city and to anywhere else in DR easy to navigate.
Check out our guide to planning your trip to Puerto Plata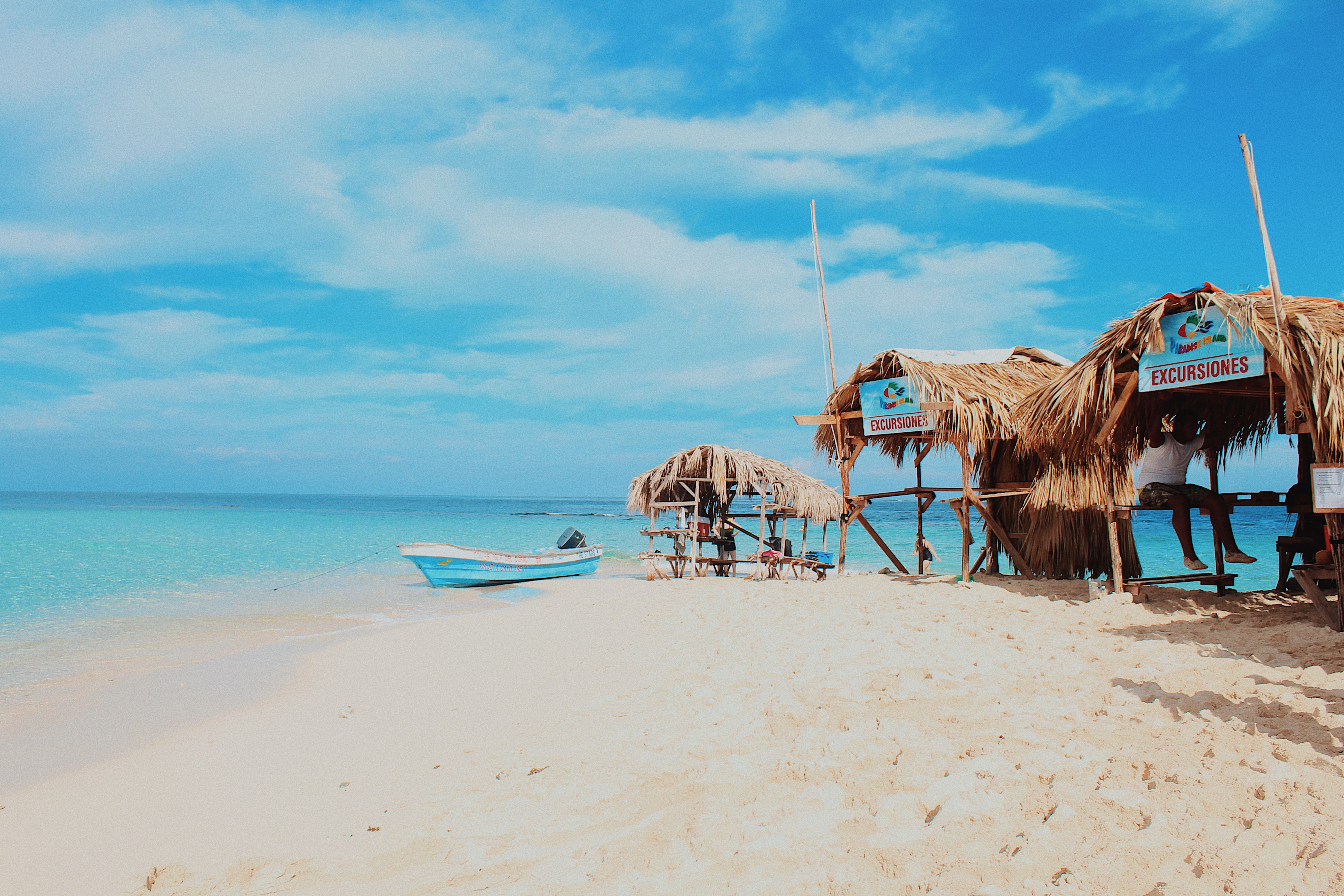 Stay in a treehouse, visit an island covered in starfish, and do everything from zip lining to jungle safaris.
The eastern coast is hiding some of our favorite adventures. The cities we've highlighted on the eastern and southern coast are full of jungles, resorts, and postcard worthy beaches. This region of the country sports some of our favorite spots in the entire Dominican Republic. If you ask our ILP volunteers who live in the DR, visiting Samana, Punta Cana and Bayahibe are consistently some of the most popular vacation spots.
All three are worth visiting, but if you don't have that luxury, I'd recommend breaking down what you'd like to do, then going from there. If you want more beaches, Bayahibe is going to be your best bet. If you want more jungle adventures, staying in rainforest in Samana for two nights would be best. Into having a hotspot for tours that take you to islands, or through a jungle safari and more? Punta Cana is a mecca for booked activities and inclusive resorts that will keep you very busy.
SAMANA
Samana juts out on the north eastern coast of the country, and supports quite a bit to do. While we love everything there is to see in this area, our favorite, favorite, favorite part about this part of the DR is staying at the Dominican Treehouse Village. You'll be tucked away deep in the lush jungle with zip line excursions, yoga studios, treetop bridges and waterfalls just right outside of your window.
As a head's up: While prices can stay rather low in the DR in general, staying at the Treehouse Village is consistantly one of the most recommended adventures our volunteers insist on doing, despite the price.
There are also some stunning beaches and coastlines to explore; this region is known for Humpback whale watching which is a good pick if you'll be visiting in January to March. However, if you are really looking for beaches, we do suggest visiting ones in Punta Cana or in Bayahibe instead.
Check out our guide to Samana for more things to do.
PUNTA CANA
Head down to the eastern most point of the Dominican to explore Punta Cana; a rather remote area lined with fancy resorts and pristine beaches. Thanks to its spot right on the coast, you'll have no trouble finding beaches to lounge on, or if you're more active, you can book tours galore.
Things To Do In Punta Cana
Snorkeling Tours
Catamaran trips
Horseback riding on the beach
Night cruises
Take a spa day
Try your hand at golf
Lounge on our favorite beaches
The beaches here are postcard worthy; several beaches complete your idea of an ideal beach vacation in the Caribbean; white sand, turquoise waters, and swaying palm trees.
Punta Cana is your ideal destination if you want a place where you can relax in a resort, hang out on some amazing beaches, or stay busy with a handful of excursions. You can easily spend 3-6 days here, or longer if you tack on a visit to a nearby spot like Bayahibe, or even a trek into Santo Domingo.
You can find resorts that fit your budget, from a fun but affordable splurge to a luxurious 5-star spot. Get more on Punta Cana here.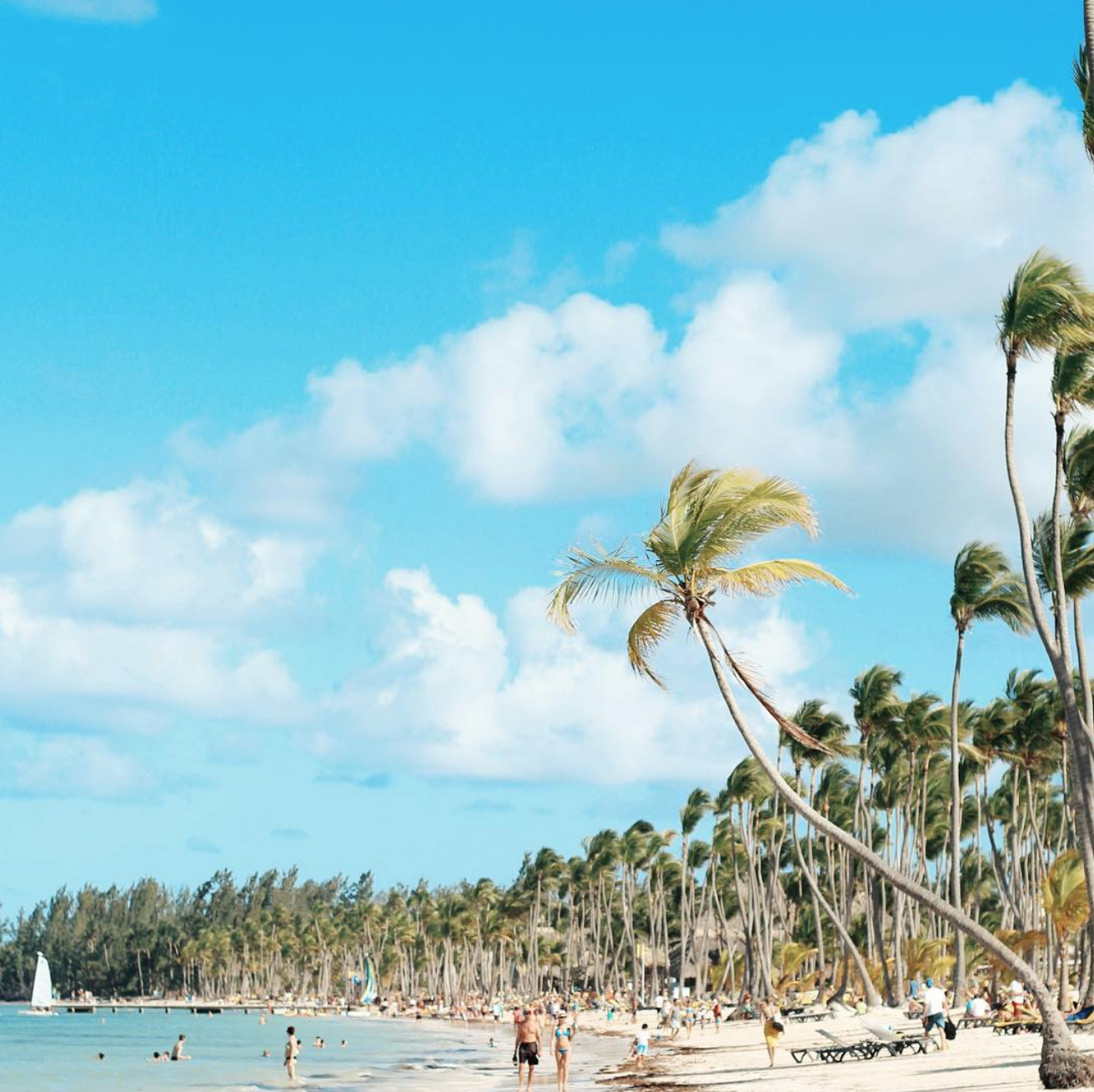 LA ROMANA (BAYAHIBE)
Another popular tourist destination, the La Romana coast is centered in the south, just west of the capital city, Santo Domingo. It's a good jumping off point for travelers who are looking for a vacation spot full of some of the prettiest beaches in the region. There are some other activities to do along the La Romana (like river rafting) but honestly, we're here for the beaches and surrounding island.
Go Island Hopping
Snorkel the remains of a wrecked Pirate Ship
I would recommend making a stop on the La Romana Coast to visit a couple of these islands rather than making a whole trip out of it. It's a good idea to combine La Romana with another nearby destination like Punta Cana or Santo Domingo.
Step back into history and wander the painted streets of Santo Domingo
This is a must-see spot in the Dominican Republic if you want a change of pace from smaller beach towns or the jungle. Found hugging the southern coast, the capital city boasts an impressive history, with streets that have been around since the 1500's, and spots that are more than photogenic. You won't find beaches and high-rise resorts but you will find a city sprinkled with architecture from when Christopher Columbus first visited. Here you'll find a rich Spanish influence, especially in the architecture and particular walkable neighborhoods, which might leave you wondering if you stepped right into Madrid.
Santo Domingo would be a good spot for travelers who are wanting to explore more of the Dominican Republic's history, a place to explore before having closer access to spots that are all along the southern coast of the country.
Must Sees In Santo Domingo
As the country's capital, it's also a big transportation hub that's well-connected to cities like Puerto Plata, making it really easy to hop over to places like Barahona, which is another favorite beach spot we can't get enough of. You can also easily reach the La Romana coast from the capital city. Oh, and getting here is simple; you'll find regular flights into the main airport (SDQ) and Caribe Tours has regular long-distance buses that bring in tourists from all over the island.
Get our insider's guide Santo Domingo here — it has more info on our favorite things to do, recommendations for places to stay, and more.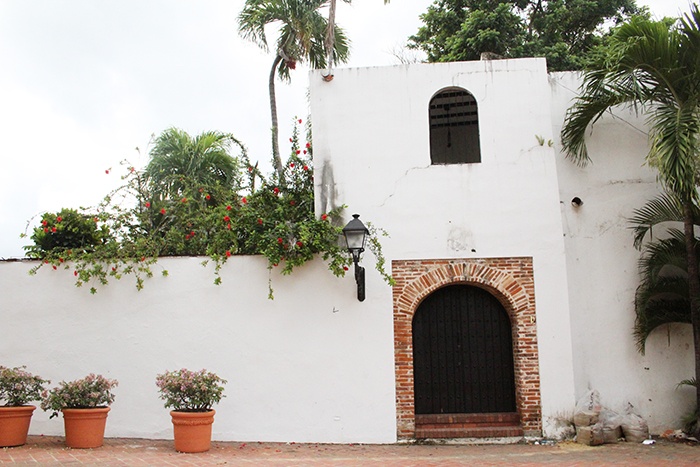 Central Dominican Republic
---
Jarabacoa is our pick for hidden adventures and cascading waterfalls
Perfect for the traveler who wants a break from the resorts and the beaches, Jarabacoa is the spot for you. Found right smack in the middle of the country, this town is surrounded by forests hiding waterfalls and swift rivers, with lots and lots to do. It's a bit of an off-the-beaten-track kind of vacation, with remote homestays instead of fancy resorts and mountains towns with panoramic views. It's a glimpse into a country lifestyle that still exists on this Caribbean island; something you can't get anywhere else.
Things To Do
Horseback trek to waterfalls
Waterfall repelling
Mountain paragliding
White water river rafting
Get all our tips to planning a trip to Jarabacoa here — it's not a place to many travelers get to experience, especially since most who visit the Dominican Republic are looking for a quick week trip full of sun and surf. We love the beaches on the DR, but there's something to be said about visiting places that are more authentic than all-you-can-eat buffets on white sand beaches. You'll find less English spoken here than more touristy countries but you can still get by if you don't speak Spanish, don't worry. Most people in the hospitality industry speak English and can help you out (like the owners of the hotel or hostel you are staying at).
The easiest way to reach Jarabacoa is by bus; you can get a first class ride via Caribe Tours from major cities; the most accessible is probably Puerto Plata or Santo Domingo. We suggest spending 3-4 full days here, depending on what you'd like to do in this more remote and rural part of the country.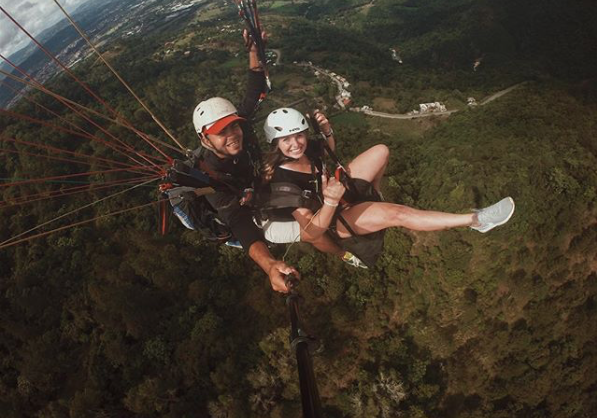 Experiences you can't miss
Whether you're in the Dominican Republic for a week or a semester here teaching English, there are just some things you'll need to do to get that Caribbean experience you're looking for.
Your Dominican Republic Bucket List
Sip some fresh coconut juice
Dive into or hike to some impressive waterfalls
Lounge on pristine beaches
Find your favorite Dominican foods
Tour a market and bargain to get a good price on some local art
See the beach at sunrise and at sunset