A Typical Day For A Volunteer
---
Spend your days teaching, exploring, and seeing things you've read about in history books
Overall, the experience of being an ILP volunteer is similar in every country, but each location does have its unique aspects and adventures. For example. the food you eat in China is going to be wildly different than the meals you'll have in Poland! Things like housing, teaching times, teaching schedules, group sizes, etc are going to differ depending on where you volunteer (they can even change semester to semester) which means your experience isn't going to be exactly the same as another volunteer's ... even when you're in the same group.
We'll set you up with the tools to have a successful semester, but you are responsible to make the most of it! To help you get an idea of what your life in Poland looks like, here's an example of what a typical day could look like:
Glimpse into what life looks like for a Poland volunteer:
Morning
Wake up to have breakfast with your host family — you try to spend a bit of time with your host mom and host sister before they leave for the day. Today's breakfast? Fruit, toast and this drinkable yogurt called Kefir. Yum. You'll be living with a host family who will provide meals for you (and if you're lucky they may make you some local dishes). Also, you'll get a front row seat to the culture, language, and a unique glimpse into what life is like for the locals in your city.

After breakfast, your host family leaves for the day, so you FaceTime your family in America — Poland is is eight hours ahead of Utah (MST) so you'll be chatting with them before they go to bed. After you fill them in on the latest funny stories from class yesterday, you have some time to kill. You aren't teaching until the afternoon, so you work on some readings for your online class (if you're not taking a break from school), write in your journal, sort through your pictures, or research hostels for your upcoming weekend trip to Prague.
Mid-day
It's time for a bit of a workout. Most mornings you open up a workout video on your computer, but today you've invited a couple of your ILP group members over to your neighborhood to go for a quick jog. Your fellow ILP group volunteers all live with their own host families in different neighborhoods (some are closer than others) so you like to get together before teaching to hang out or exercise together.
After your run, you all hop on a bus to visit the city center; it's a bit of a commute in (you pass the time by planning some of your lessons for next week), but so worth it. You'll never get sick of the towering cathedrals in your city! You guys picked a good day to visit the town square; there's a little pop-up market selling some souvenirs and your favorite Polish food. Your group stands in line to get kielbasa (sausages cooked over an open flame, I might add), piled high with mustard. Get your order to go and eat it while you wander the painted streets. You "happen" to stroll by your favorite ice cream place right as you finish lunch. You get two scoops because who can really choose between chocolate and fresh raspberry?
Afternoon
Time for teaching! You guys packed up your backpacks with your school supplies before heading into the city so you could ride straight to the school. After a few stops, you're nearly there. Now it's just a quick walk past Wawel castle to the school you all teach at (you're here just in time to set up before your students arrive). ILP volunteers help children in Poland learn English, typically in the afternoons, for about 4 hours each week day.
You're teaching "Kitchen" this week which is always a favorite for you and all of your kids, from age 4 on up to 14, are going to love today's lesson. You pull together some bread, peanut butter, jam, sprinkles and cookie cutters to make some pretty tasty sandwiches. Of course, it's a total hit.
ILP classes are activity-based so students are having fun and are engaging with you all while they learn English naturally (so it's totally fine if you've never taught English before).
Your class is also small so that you know each of "your kids" by name, know their personality, and see how they learn best.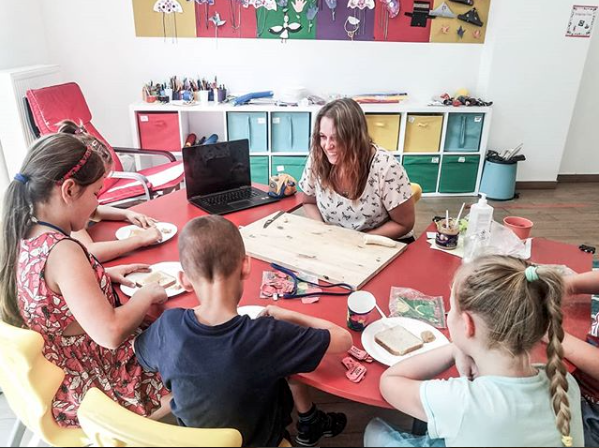 Evening
After classes are done, you snag one of the empty classrooms and meet with your group for a minute before you all go back to your host family's houses. Your group locks down some details about your big vacation coming up before you all head home. Tonight you're having pierogis with your host family — a traditional Polish meal.
Before bed, you practice some basic Polish phrases with your host family and you teach them a few more words in English. Your Local Coordinator puts together some more formal language classes during the week, but it's fun to see how much you learned and share a few words from your own language with your host family. After some laughs, you say goodnight, check your schedule for the next day to see what you have planned, then head to bed.
Make the experience your own
Like we mentioned, the experience is different for everyone. We give you the tools to live abroad, the free time, and the meaningful purpose of service but then ultimately you're responsible for what you get out of the semester.
You could head to the grocery store and try all the European chocolate instead of sticking to a classic Snicker bar. Try some new local street food instead of opting to visit chains from home. Some volunteers choose to attend an LDS church in Krakow on Sundays. Some dive further into the culture by reading these 5 books set in Europe. Or maybe you create the ultimate bucket list for your semester so that you make the most of every day! The more you make of your semester, the more you'll get out of it.
Go check out different parts of Poland + all over Europe
ILP volunteers have scheduled vacation time throughout their semester as well as every weekend off. This gives you plenty of time to go travel to all those European countries you're dying to see, several of which are just hours away from Krakow. You'll have your travel plans approved by an ILP director to help ensure you're traveling to safe areas, but otherwise it's really up to you and your group where you'd like to go.
Start dreaming up your ideal bucket list for your semester in Poland!
Our favorite vacation ideas:
Places you might want to check out on a weekend trip:
A few travel tips
Most countries in Europe don't require a visa to visit, which means you can jump from country to country without applying for extra paperwork or paying fees (score). The biggest exceptions are Russia and Belarus (which borders Poland to the east). Those two countries require a visa to travel to (even if you're just traveling through on your way to another country), so volunteers in Poland just don't go to these countries because getting a visa there is tricky and expensive.
Travel in Europe can be a bit expensive in general (it's actually our most expensive location to travel in), but if you're on a budget there are lots of things you can do to keep costs down and still see those classic sites that you've been dreaming about.
Check out budget airlines for cheap flights (for example we even found budget airlines in Krakow that can fly you to the Netherlands for $42, roundtrip!). One really nice thing about living in Krakow is that it's an international hub for travel. You can often find really great deals on flights as well as frequent bus/train routes to other countries throughout Europe! You can also stick to countries that are just cheaper in general for travelers if you're traveling to a budget.
If you're on a bit of budget, think about spending most weekends in Poland, and then spending your scheduled vacation time exploring new countries. Krakow is very well connected which means it's easy to visit a new country every single weekend, but even with cheap flights, that does add up.
We know you've already got your bucket list for places like Paris and Barcelona, but check out these lesser known areas that are just as beautiful without the crazy crowds.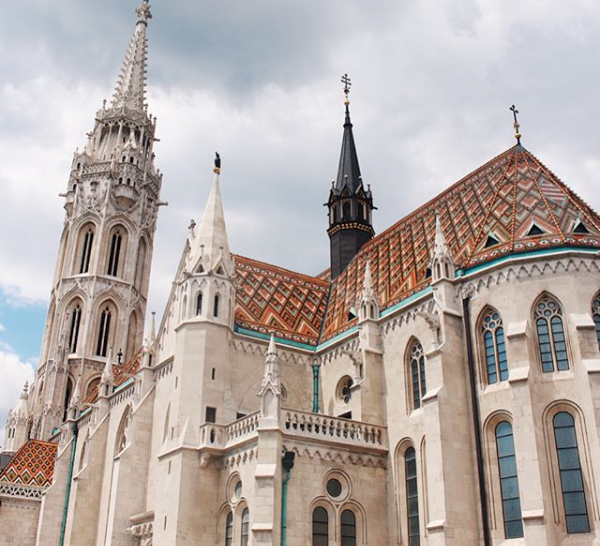 Experiences You Can't Miss
---
We are not ashamed to admit that our favorite things to do in Krakow are all about history and the best things to eat!
The best part about living abroad for an entire semester (rather than a quick two week service trip) is that you really get to experience the culture, get familiar with the city (you know the bus routes, the best restaurants and cafes, your favorite treat at the grocery store, etc) and you meet some awesome local friends. Rather than a place that you've traveled to, it starts to feel more like home!
Start your own bucket list but feel free to add these ideas to help make sure you get the true Polish experience.
Your Poland Bucket List:
Grab lunch at the food trucks in town
Photograph all the gorgeous buildings in the city square
Take a free walking tour of Krakow
Try classic Polish fare, like pierogis or paczik
Cheer at a local soccer match
Cool off with some ice cream at Good Lood

Leave a lock on Bernatka Bridge

Go kayaking on Wisla River
Tour Schindler's Factory
Cross off this list of things to do in Krakow
Walk around the Jewish Quarter
Admire the many murals in your city
Snag lunch at one of our favorite restaurants in Krakow
Day trip to

Podgorze's stunning cathedrals

Spot some local art at the Mocak
Go souvenir shopping at the Cloth Hall
Jump in a horse led buggy to give your feet a break on a tour of the city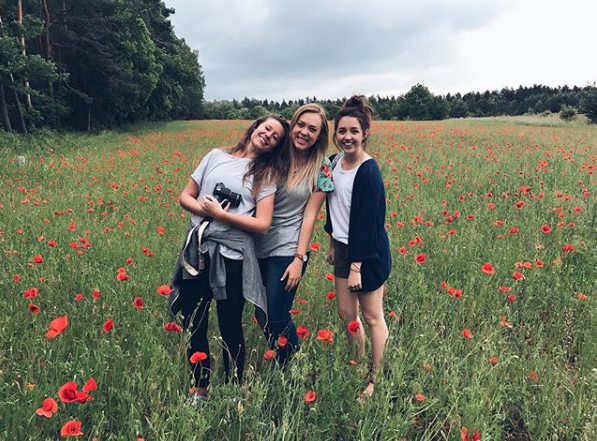 Quick facts about an ILP semester in Poland:
Qualifications - who can volunteer?
ILP volunteers are young adults/college-aged - typically age 18-24 (yes, you must be at least 18), from the US and Canada, and speak English as their first language. There is no experience necessary! It's totally fine (and normal) if you only speak English and/or have never taught before.
Currently we are accepting single females and single males for this area. If you are married, we do have other locations that are a better fit for you. The groups are around 4 volunteers each semester, so spots are limited.
Cities
Volunteers live in Krakow.
Make sure you don't miss these top sites to see in Krakow!
Semester Dates
There are 3 semesters that you can participate in: Spring, Summer, and Fall
The exact dates vary from year to year, but in general ...
Spring is early January-end of April/early May
Summer is early May-middle of August
Fall is end of August-middle of December (home for Christmas!)
Costs
The program fee to participate as a volunteer in the Exchange program in Poland is $2,520. This includes your roundtrip international airfare to Poland, housing, meals, visa, and training and support for the entire semester.
We also recommend budgeting around $1,500-$2,000+ for any traveling and purchases you make while you live abroad as well as things you may need that the program fee doesn't cover (like a passport, health insurance, airline baggage fees, etc).
Psst! Is budget one your concerns? We have a guide with ways to make a semester abroad affordable - check it out! It's especially helpful for college students.
Housing
Volunteers live in host families (you may be living with a student you teach and their family).
Weather
The weather here is beautiful! You'll experience the 4 seasons similar to how you would in Utah with the warmest months in the summer and the coldest in the winter. There's plenty to see and do no matter which semester you choose (even in the winter).
How to apply
You can start your application online right here. It's easy to get started and there's no commitment at this point! We start accepting applications about 1.5 years prior to the start of the semester and there are no deadlines (we fill spots on a first-come-first-serve basis).
We recommend applying as soon as you know you're interested in volunteering because the spots in Poland are quite limited and do start to fill up very quickly. Also, as soon as you apply you'll be assigned an ILP representative who can answer all of your questions, give you tips, and just be your go-to person when you need help.
Don't forget to check out ILP's other locations to see which European country is right for you.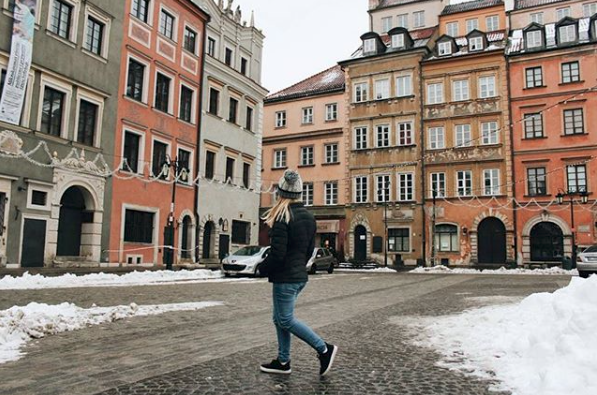 Advice From Past Volunteers
---
It's really helpful to use past volunteers as a resource!
So how can you get in touch?
Check out the ILP blog
Sometimes we interview volunteers about how their semester went! Read about Kristine's experience in Poland here.
Follow us on Instagram
@ilpadventure is frequently posting about all of our locations, giving updates, and more so make sure to follow us there.
Follow #ilppoland to discover volunteer's personal accounts and follow them.
We even have an Instagram account called @ilptakeovers where we ask volunteers who are in-country right now to take over and post some stories about what they're doing and put a post on the feed. Volunteers are usually featuring what a typical day looks like, what the meals are like, info about vacations they are taking, things to pack (and not to pack), what their host family's place looks like — you know, all the things you want to know from their perspective.
You can see what they're doing from day to day and also DM them with questions! Most volunteers are so happy to help you out because they also had tons of questions before they signed up.
Talk to an ILP Representative
The representatives who work in the ILP office have volunteered on our program before and love to talk about their experience and answer your questions. Check out the form below where you can leave your contact information and we'll have a rep reach out and text you.