A Typical Day For A Volunteer
---
Spend your days teaching, exploring, and throwing up peace signs in front of every pagoda.
The overall experience of being an ILP volunteer is similar in every country, but each location has its own unique aspects and adventures. For example, your meals in Europe will obviously be different than your meals in China! Things like your housing, meals, teaching times, group sizes, etc are all different depending on where you volunteer (and they can change a bit from semester to semester). Your experience may not be the same as another volunteer's ... even when you're in the same group.
We'll set you up with the tools to have a successful semester, but you are responsible to make the most of it! Here's an example of what a typical day could look like though to get an idea ...
A glimpse at a day in the life of a China volunteer:
Morning
Wake up early and Facetime your family — China is 14 hours ahead of Utah (MST) so you'll catch them while they're making dinner. After you fill them in on your recent weekend trip to Shanghai, it's time for breakfast. You run across campus (you live right next door to the school) and sit down at the school cafeteria. Grab your chopsticks — you're really good at eating with chopsticks now — and dive into a plate of rice, hard boiled eggs, and steamed buns filled with a sweet custard. Since you eat your meals in the school cafeteria, you spot a couple of the students you teach (who also live on the school's campus) and stop by to say "hi" before they go to class.
After breakfast you have some free time. Other volunteers in your group decide to walk around town and get some snacks (or just hang out and watch Netflix), but you're taking a couple of online classes so you finish some assignments and wrap up an essay.
Mid-day
Time for lunch — it's tomato and egg stir fry with rice (it sounds weird at first but it quickly became your fav). After you eat, you head to the classrooms and fill up your backpack with balloons and a few other supplies. Today you're teaching Games, aka "don't let the balloon touch the floor". There are lots and lots of giggles.
ILP classes are activity-based so students are having fun and are engaging with you all while they learn English naturally (so it's totally fine if you've never taught English before). Your class is also small so that you know each of "your kids" by name, know their personality, and see how they learn best.
You'll have cutie students like Amy, who got a little spotlight on our blog, and naughty little trouble makers who just steal your heart. Saying goodbye is going to be tough!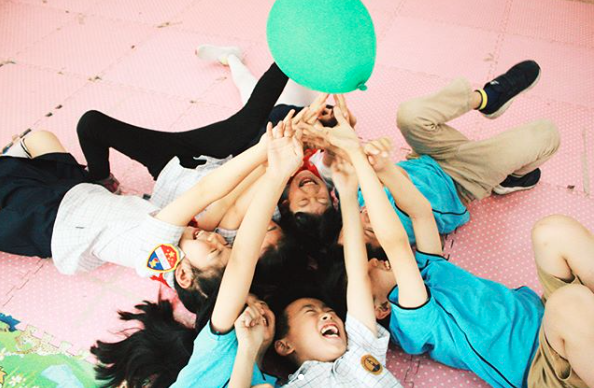 Evening
Most nights you'll eat at your cafeteria, but tonight you have the biggest craving for your absolutely favorite meal in China — pulled noodles. Your ILP group lives close to a noodle shop, so you just hop on the city bus and get off after a couple of stops. You can order up a huge plate of these for $2, then it's time for dessert: a $0.50 ice cream cone ... or two from the place next door.
After dinner, you guys stop to take some pictures of your local park at sunset and join in on the dance groups that congregate there ... the park is filled with cutie ladies doing a step-dance routine and you guys all join in (even though you don't know the dance).
Make the expe

rience your own

Like we mentioned, the experience is different for everyone. We give you the tools to live abroad, the free time, and the meaningful purpose of service but then ultimately you're responsible for what you get out of the semester.

Be adventurous! Some volunteers choose to attend an LDS church on Sundays. Some try to connect more with the locals by learning how to speak basic Mandarin Or maybe you create the ultimate bucket list for your semester so that you make the most of every day!
Go check out different parts of China
ILP volunteers have scheduled vacation time throughout their semester as well as every weekend off. This gives you plenty of time to go travel to all those temples, mountains, cities and bucket list places on your list. You'll have your travel plans approved by an ILP director to help ensure you're traveling to safe areas, but otherwise it's really up to you and your group where you'd like to go.
Start dreaming up your ideal bucket list for your semester in China!
Our favorite vacation ideas:
We've got an entire China Destination Guide full of our favorite spots - so make sure to check that out for more detailed tips on these highlights if you're planning a trip right now, but here's a glimpse at some of our favorite places volunteers go.
Beijing (History and adventure, here we come)

Camp overnight on the Great Wall
Tour Tiananmen Square
See the Forbidden City
Photograph The Temple of Heaven
Shop at the Pearl Market
Take a train over to see the Terracotta Warriors in nearby Xi'an
plus so many more!

These Mountains (China is home to the prettiest peaks)

Visit Heaven's Gate at Tianmen Mountain
See the Avatar Mountains in Zhangjiajie
Conquer Yellow Mountain
Touch heaven on Mount Emei
Bike between the Dr. Suess Hills in Yangshuo

Spots in Shanghai (Soak in the skyline, do some shopping and hang out with Mickey)


Spend a day in Shanghai Disney
Photograph the iconic "Bund" Skyline
Navigate the Tianzifang alleyways
Lunch in the French Concession
Hang out at the "Friends" cafe


Pretty Watertowns


See the "Venice of the East" in Suzhou

Take a dragon boat ride in Hangzhou


Our Favorite Spot, Yangshuo (you didn't think China could look like this)


Bike ride through flower fields

Take a bamboo boat through these jungley hills

Go bridge jumping after sipping mango smoothies
Hike to Moon Hill or swim in mud caves

+ way more!
A few travel tips
China will keep you busy, busy, busy — there is so much to do in this country! That's why I'm so glad I spent a whole semester in China when I was volunteering. If you just got for a week like most tourists, you'll only skim the surface of things to see and do in China. Since I called this country home, I had the luxury of spending 2 days up on the Great Wall, instead of just 2 hours.
It might be hard to narrow down exactly where to go in this huge country, but this list of the prettiest places in China might be a good place to start.
Travel is not expensive in China, which makes getting around easy, especially if you're taking trains instead of flights. All of China is very well connected by trains, so quite a few volunteers opt to take an overnight train and just wake up in a whole new city (going somewhere on an overnight train is a must-have travel experience. That being said, sometimes it does work better to get there via an airplane (we love booking all flights and trains on C-Trip).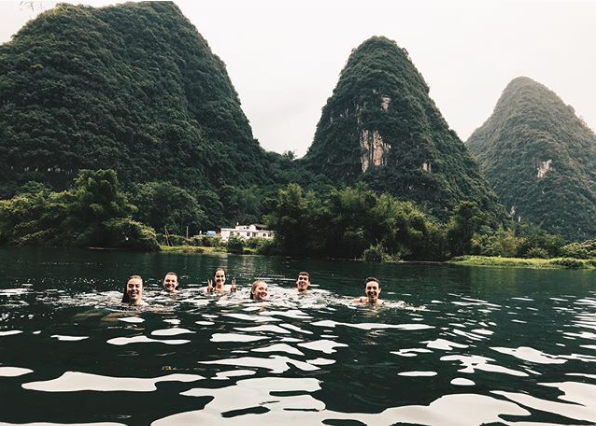 Experiences You Can't Miss
---
Living in China for a few months gives you the time you need to really experience all the things you're looking for. Some of the things are more touristy than others ... but it's fun so just go for it!
Here's a list of some big things that you just can't miss out on:
China Bucket List
See a world wonder - The Great Wall of China!
Master the art of eating with chopsticks
Bargain hard to get the best price while souvenir shopping
Embrace some Chinese manners and slurp up a bowl of noodles.
Have an impromptu English lesson on the metro or at a bus station

Toss a little snack to some wild monkeys while you hike the mountains

Join in on some kite flying or dancing in the park

Be a part of a random photoshoot (they'll happen all of the time)
Purchase a tee shirt with some random English words on it
Send your family a postcard from cities like Beijing, Shanghai and Guangzhou
Fall in love with our favorite China fashion trends
Order up a basket of dumplings, in Mandarin
Make new friends at your local fruit market
Try out some new snacks at your local night market
Go swimming and soak up the sun at the South China Sea
Be brave and walk over a glass skywalk high along a mountain cliff
Get a steal of a deal at the knock-off market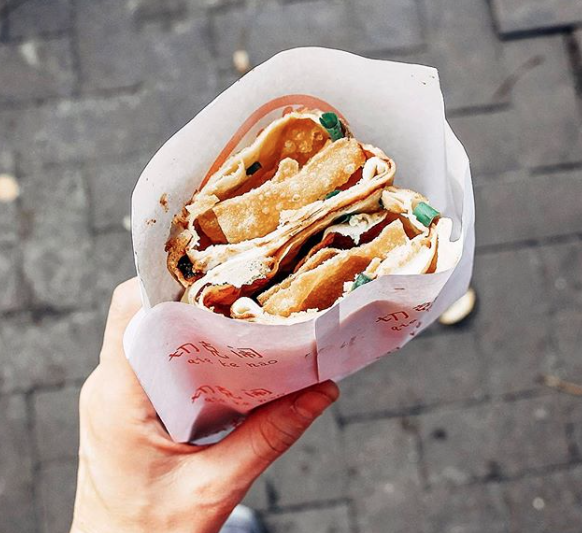 Quick facts about an ILP semester in China:
Qualifications - who can volunteer?
ILP volunteers are young adults/college-aged - typically age 18-24 (yes, you must be at least 18), from the US and Canada, and speak English as their first language (Really, you can really visit and live in China without speaking Chinese). There is no experience necessary! It's totally fine (and normal) if you only speak English and/or have never taught before.
Single females, single males, and married couples can apply to volunteer in China. Right now, China is actually the best deal for married couples (get more info about that 50% off married-couple discount here).
Group size varies, depending on which city you're teaching in ... Your group may be 4 people, or 30 people (and everywhere in between).
Cities
We have several groups in China, the most by far! We've broken them up into provinces (get an up-to-date map of where you could volunteer in here) but we have volunteers living in cities like Beijing, near Shanghai and just outside of Guangzhou, plus a few more in between.
Semester Dates
There are two semesters that you can participate in: Spring and Fall
The exact dates vary from year to year, but in general ...
Spring is late January (to mid-February ) to the third week in June
Fall is mid-August to mid December (Home for Christmas!)
Costs
The program fee to participate as a volunteer in the Exchange program in China is $2,520. This includes your roundtrip international airfare to China, housing, meals, visa, and training and support for the entire semester.
We also recommend budgeting around $1,500-$2,000 for any traveling and purchases you make while you live abroad as well as things you may need that the program fee doesn't cover (like a passport, health insurance, airline baggage fees, etc).
Psst! Is budget one your concerns? We have a guide with ways to make a semester abroad affordable - check it out! It's especially helpful for college students.
Housing
Volunteers live in apartments or dorms, usually very close to where you'll be teaching (if you don't live on/near campus, you'll just hop on a bus to get to where you'll be teaching). You'll be living with your other group members, usually sharing a room with 1-2 of your fellow volunteers.
Weather
Depends on where you are, and what semester you're volunteering in. Helpful, right? China does have distinctive seasons; in the north and in central China, that means a hot and humid summer, a cooler fall, cold winter (there may be sun) and a wet spring — similar to what you'd find in Utah. In the south, there's a more tropical, humid climate, with warmer weather overall and more rain than you'd see in cities that are farther north.
To help, we have an outline about packing for the right kind of weather in China, depending on your location and your semester.
How to apply
You can start your application online right here. It's easy to get started and there's no commitment at this point! We start accepting applications about 1.5 years prior to the start of the semester and there are no deadlines (we fill spots on a first-come-first-serve basis).
We recommend applying when you know you're interested in volunteering, especially if you'll be volunteering with a group of friends (plus, you'll save some cash!). We love putting friends in the same city, so it's best to apply early to help make that possible.
As soon as you apply you'll be assigned an ILP representative who can answer all of your questions, give you tips, and just be your go-to person when you need help.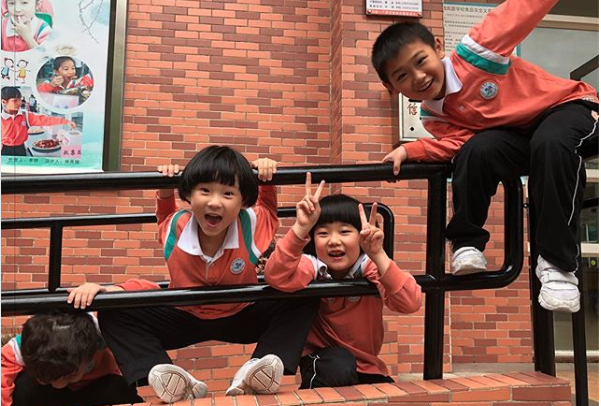 Advice From Past Volunteers
---
It's really helpful to use past volunteers as a resource!
So how can you get in touch?
Check out the ILP blog
Sometimes we interview volunteers about how their semester went! See why Jen choose to volunteer in China and read about Audrey's semester in China.
Pst: We also have a list of things you probably didn't know about China, and a guide about things to know before your first trip to China .... our blog is full of helpful info!
Follow us on Instagram
@ilpadventure is frequently posting about all of our locations, giving updates, and more so make sure to follow us there.
Follow #ilpchina to discover volunteer's personal accounts and follow them.
We even have an Instagram account called @ilptakeovers where we ask volunteers who are in-country right now to take over and post some stories about what they're doing and put a post on the feed. Volunteers are usually featuring what a typical day looks like, what the meals are like, info about vacations they are taking, things to pack (and not to pack), what their apartment looks like — you know, all the things you want to know from their perspective.
You can see what they're doing from day to day and also DM them with questions! Most volunteers are so happy to help you out because they also had tons of questions before they signed up.
Talk to an ILP Representative
The representatives who work in the ILP office have volunteered on our program before and love to talk about their experience and answer your questions. Check out the form below where you can leave your contact information and we'll have a rep reach out and text you.